East Renfrewshire delays Catholic school admission plan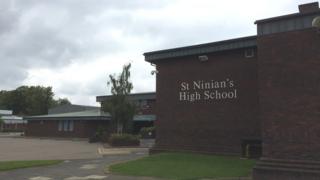 Plans to limit admissions to a top-performing Catholic school by giving priority to baptised children have been delayed for two years.
East Renfrewshire Council wanted to introduce the measure at the popular St Ninian's secondary in Giffnock.
After concerns from parents, children with siblings at school will be given a higher priority for the next two years.
After that, top priority will be given to Roman Catholic-baptised children in the catchment area.
'Amended proposals'
The council carried out a consultation on the initial proposals between 26 August to 10 October.
A report on the feedback will be considered by the authority's education committee on 20 December.
If approved, the proposed changes would apply to new primary and secondary pupils from January 2017 onwards.
East Renfrewshire Council's director of education, Mhairi Shaw, said: "We are a listening council and whilst the vast majority supported our proposals there were some respondents who expressed concern about having already committed to a particular school for their older children.
"We have taken these views on board and amended the proposals accordingly to help give this group of families a higher priority to continue with their chosen route for their younger children.
"I believe that these proposed changes to admission arrangements will allow us to continue to effectively and fairly manage the demand for places throughout our schools."