Rapist 'seen in town centre' before Paisley attack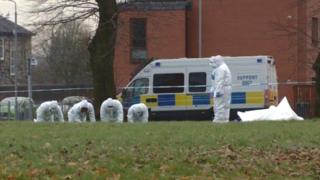 Police believe a man who raped a woman in Paisley at the weekend may have been in the town centre hours before he carried out the "terrifying attack".
The 40-year-old victim was attacked while walking on a path in Merksworth Way at about 02:20 on Sunday.
She later raised the alarm at a nearby house.
Her attacker was described as white, 5ft 7in tall, well-built, with dark, spiky hair. He is believed to have had an Eastern European accent.
At the time of the attack, the man was wearing jeans and a dark hooded top, with the hood up. He ran off in the direction of the airport after the attack.
The woman was taken by ambulance to the Royal Alexandra Hospital in Paisley for treatment and later released.
'Out of nowhere'
The attack took place on a grassy area in the Shortroods area of the town, which lies about one mile north of the city centre and half a mile south of Glasgow Airport.
Det Insp Louise Harvie, from Police Scotland, said the victim "had no idea" that anyone was approaching her before the attack.
"We have no idea where he came from," she said.
"We know that she walked from Paisley town centre towards her home address and he came out of nowhere."
The detective said she believed the suspect had been in the town centre "some three hours" before the attack and she urged anyone who saw anything suspicious to come forward.
Det Insp Harvie said that considerable resources had been deployed to identify and arrest the suspect.
She said: "All the CID support in this division are working on this inquiry and this will be the full focus of this division until this male is caught."
The detective said that additional uniformed patrols would be operating in the area and she urged anyone with concerns or information to speak to them.