New appeal over 'loose change' armed raid in Cumbernauld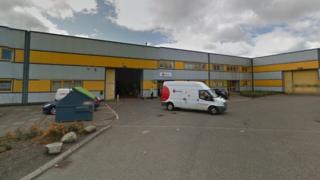 Police are to revisit the scene of an armed robbery in North Lanarkshire in which a five-figure sum in loose change was stolen from business premises.
A male member of staff at Selecta, was targeted while locking up at Westfield Industrial Estate, Cumbernauld, at about 17:10 on Thursday 17 November.
He was threatened by three men, with what appeared to be a firearm.
The suspects made off with the firm's takings - mostly in £1 and £2 coins - in a red Ford Focus estate.
'Targeted robbery'
Det Insp David Reilly said officers would revisit Westfield Industrial Estate and the surrounding roads one week after the robbery, between 16:00 and 18:00, to speak to people and drivers in the area.
"This was no doubt a targeted robbery. The men who did this knew what they were looking for and what they could get," he said.
"One man threatened the employee with a firearm whilst the others gathered the money.
"The majority of the five-figure sum stolen was in £2 and £1 coins - an enormous amount of coins that would have been difficult to move quickly."
The detective said the suspects made off in a red Ford Focus estate at about 17:20.
Car appeal
The car was found at 20:10 in Drumcavel Road, near Glenboig Road, Glenboig.
Det Insp Reilly added: "We need to know where it was in between times. Was it for example parked up and then retrieved later?
"I would appeal to anyone who was in the area, who saw the car and its occupants hanging about, or to anyone who saw the car in the general area or parked somewhere between the industrial estate and where it was found in Glenboig, to contact police."
The first suspect was described as being in his late 40s, about 5ft 9in tall. He was of slim build and had an "unkempt appearance".
The second suspect was in his 40s, about 5ft 9in tall, of slim build. He wore a black balaclava.
The third suspect was in his 20s, about 5ft 6in tall and had a "skinny" build.