Brodick Castle art collection rated of national importance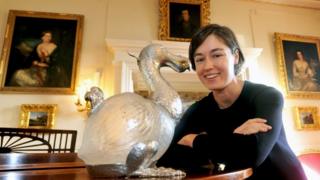 The remainder of a huge art collection that was amassed by one of Scotland's foremost noble families has been added to a national recognition scheme.
The collection is on display at Brodick Castle, Arran, the previous seat of the Dukes of Hamilton, now owned by the National Trust for Scotland (NTS).
It includes hundreds of items of porcelain, paintings, silverware, sporting trophies and period furniture.
The collection has now been "Recognised as Nationally Significant to Scotland".
The scheme aims to ensure important collections are identified, protected and promoted to a wider audience.
The award also opens up access for Brodick Castle to apply for recognition funding from Museums Galleries Scotland to improve how people experience and engage with the collection.
'Scotland's gems'
Ray Macfarlane, chairman of Museums Galleries Scotland's recognition committee, said: "Scotland's 47 recognised collections cover a fascinating range of topics and highlight the incredible diversity and uniqueness of what lies inside museums and galleries dotted in towns and cities all across Scotland.
"I am delighted that the collection of Brodick Castle, cared for by National Trust for Scotland, has joined this list of our must-see collections.
"The quality of the collection is truly remarkable. Without a doubt this is one of Scotland's gems."
The Brodick Castle collection was once part of the vast holdings of the Dukes of Hamilton which, according to Museums Galleries Scotland, was considered as the greatest assemblage of fine and decorative art in Scotland
Most of the holdings were sold off between 1880 and 1920 and today, Brodick is home to the only part of that collection to have remained in family possession and in a historic Hamilton home.
NTS chief executive Simon Skinner said: "We are delighted that the collection at Brodick Castle has received this important recognition for its wonderful collection and important place in Scotland's heritage.
"The trust has long realised the significance of what we care for here on Arran, for its heritage value, for its importance in the history of the island and Scotland as a whole and as a destination for visitors from near and far."