Five-figure sum stolen during armed raid on business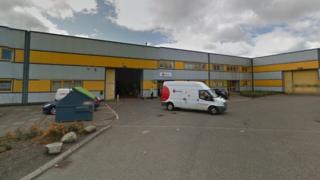 A five-figure sum of cash has been stolen during an armed raid at business premises in North Lanarkshire.
A male member of staff at Selecata, was targeted while locking up at Westfield Industrial Estate, Cumbernauld, at about 17:10 on Thursday.
He was threatened by three men, with what appeared to be a firearm, who made off with the firm's takings.
The staff member was not injured and contacted police after the suspects made off in a red estate car.
Police said they were carrying out inquiries at the industrial estate and are gathering CCTV footage.
Information appeal
Det Insp David Reilly said: "There are two roads leading into this industrial estate and the incident occurred around finishing up time, so it's possible the red car and its occupants were seen by people as they left work yesterday.
"I am appealing to anyone who may have noticed the car or who has any information to contact us."
The first suspect is described as in his late 40s, about 5ft 9in tall, with a slim build and "unkempt appearance".
The second suspect was in his 40s, about 5ft 9in tall, with a slim build. He wore a black balaclava.
The third suspect was in his 20s, about 5ft 6in tall and of a "skinny" build.