Court action to close 'failing' elderly care home on Bute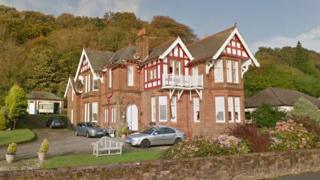 A watchdog is to ask a court to close an elderly care home on Bute which it says is putting residents at risk.
The Care Inspectorate raised serious concerns about the Craigard home, near Rothesay, after a visit in September.
It said that despite issuing an improvement notice, standards of care were still "unacceptable".
The Care Inspectorate is now seeking to have the home's registration cancelled by a court even though the owner has said she will close it voluntarily.
A spokesperson for the Care Inspectorate said: "The provider has offered to voluntarily close the home in January 2017 but that would not address the immediate risks we identified, and would not be binding. That is why the court order is needed."
'Serious risk'
The spokesman said that "serious concerns about the quality of care" at Craigard had emerged after an inspection in September.
He said: "We served an improvement notice on the care home, clearly laying out the areas which required immediate improvement in order to protect residents and ensure their care reached a standard they have a right to expect.
"Despite our extensive efforts to ensure improvement at Craigard, the care provided at this home is unacceptable and our view is that residents will be at serious risk if the home remains open."
The spokesman said the Care Inspectorate was now taking action at a sheriff court, seeking to have the home's registration cancelled under section 65 of the Public Services Reform (Scotland) Act 2010.
The spokesman added: "It is extremely rare for us to take action of this nature and we do so only when we must protect people from harm.
"We will work closely with colleagues at Argyll and Bute Health and Social Care Partnership to ensure that residents needs are met and that appropriate contingency plans are in place to ensure continuity of care.
"We understand this will be a really worrying time for relatives and their families."
A spokesman for Argyll and Bute Health and Social Care Partnership said: "Our priority is the safety and wellbeing of the residents at Craigard and we will continue to work closely with the Care Inspectorate and the private provider.
"We have also put plans in place to ensure that, whatever the outcome, care and support will continue to be available for the residents."