Glasgow doubles budget to fill 20,000 potholes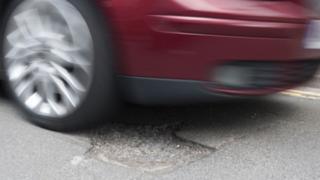 Scotland's largest council has doubled its road repair budget in a bid to fill at least 20,000 potholes.
Glasgow City Council had committed £8m to tackle defects in the current financial year. This will be increased to £16m before the end of March.
The extra funds will also help resurface more than 200 residential streets and 50km of pavements.
The authority said the amount of patch repairs carried out on roads would be enough to cover 23 football pitches.
'Big investment'
Council leader Frank McAveety said: "Glaswegians have every right to expect good roads and pavements and I want to make sure we're doing everything we can to deliver the big investment required to match their expectations.
"We have already secured real improvements in the city centre and on some of our busiest routes across the city - but this additional cash will allow us to reach further into our communities and repair more residential streets than ever before."
Councillor McAveety said the authority had consulted with the public, community councils and elected members to prioritise projects across the city.
He said engineers were also studying safety reports, public complaints and previous compensation claims, along with street-level reports from bus and taxi drivers, to make sure the money spent had the most impact.
The council's £16m spending will include:
Road surface treatments - £6.25m;
Road patching - £4m;
Road resurfacing - £3.5m;
Footways - £1.25m;
Lining - £1m