Drug dealer caught in police surveillance operation jailed for six years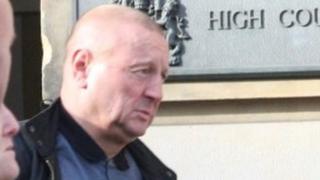 A drug dealer has been jailed for six years after being caught in a police surveillance operation targeting organised crime in Scotland.
Peter McLaren, 48, admitted supplying cocaine between 1 and 29 March in 2014 at locations in Glasgow.
He also admitted supplying cannabis resin at his Glasgow home and in Ullapool, in the Highlands, between 21 July and 21 August in 2014.
The street value of the drugs involved was about £250,000.
'Drugs misery'
Jailing him at the High Court in Edinburgh, judge Lord Woolman said: "I must, in arriving at a sentence, have regard to the misery the drugs trade causes. You took a risk in becoming involved in this enterprise - a big risk.
"You had an important role in the drugs distribution chain. You were not a street dealer. You did not handle the drugs yourself, instead you directed the couriers."
Lord Woolman said: "The police set up an investigation into an organised drugs ring in Scotland. They named it Operation Numerical. They carried out surveillance on various individuals. Intelligence from that operation led to two significant drugs finds."
The judge added: "The police were able to link you to the drugs couriers in question."
The court previously heard how the evidence against McLaren was obtained by a surveillance operation which also snared two drug couriers.
On 29 March 2014, one of the couriers was approached by detectives at the Shandwick shopping centre car park in Glasgow.
A bag inside the car he was driving was found to contain half a kilo of high-purity cocaine that had the potential to be cut with adulterants to produce seven times that amount on the streets.
Later that year, another courier was followed and detained in Ullapool while carrying 19 kilos of cannabis resin, which was due to be transported to the Isle of Lewis.
Officers later conducted a raid on McLaren's home in Glasgow and linked him to the drugs supply operation.
He initially denied the charges against him but his trial was brought to an end after he admitted two drugs offences.