Deliberate fire damages pub and two flats in Glasgow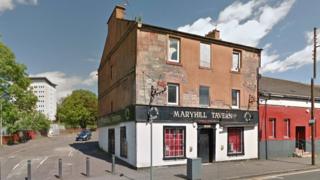 A fire which caused damage to two flats and a pub in Glasgow was started deliberately, police have said.
Emergency services were called to the blaze within a common close of flats near the Maryhill Tavern, on Maryhill Road, at about 05:30 on Wednesday.
No one was injured or evacuated as the flats are not currently in use.
Police said that following a joint investigation with the fire service, the blaze was being treated as wilful. They have appealed for witnesses.
Det Con Geraldine Josey said: "This was a deliberate and dangerous act which has caused significant damage to the flats above the Maryhill Tavern. The roof of the pub has also been damaged. The cost of damages is still to be estimated following this incident.
"The house is in the middle of a residential area of Maryhill and is overlooked by several flats and other properties across the road and further up Duncruin Street.
"It did happen during in the early hours of this morning but I would appeal to anyone who was awake around that time and may have seen anything suspicious to get in touch. You may have heard a disturbance, or witnessed an individual acting suspiciously or running away from the area."