Ex-soldier who was illegal 'gunsmith' jailed for 10 years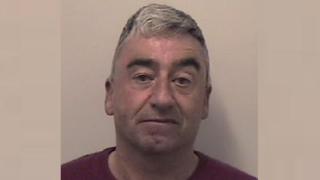 A former soldier who bought deactivated guns online and turned them into deadly weapons for criminal associates has been jailed for 10 years.
Andrew Steven, 53, set up a specialist workshop in his home in Ayr and committed numerous firearms offences between 1992 and 2015.
He was caught when police searched the house in March 2015 and found a cache of guns, tools and ammunition.
Steven admitted firearms charges and involvement in serious organised crime.
'Essential skills'
Jailing Steven at the High Court in Glasgow, judge Sean Murphy QC told him that his "skills" had been "essential" in other crimes being committed.
The judge added: "They simply could not have happened without your contribution."
Three of Steven's associates, convicted criminal Dean Kimmins 33, Kenneth McMullan, 27, and Michael Stuart, 35, joined him in the dock for sentencing.
They had earlier been convicted of the serious organised crime charge between January and February 2015.
Kimmins, of Kelvinbridge, Glasgow, was jailed for eight years. McMullan, of the city's Possilpark, was jailed for six years and Stuart, of Uddingston, South Lanarkshire, was sentenced to seven years.
Their trial had heard how Steven ran an illegal "cottage industry" by reactivating guns that he had bought online.
These included a sten sub-machine gun, a Sig Sauer pistol and a rifle.
One weapon - a King Cobra revolver - was discovered close to a murder scene in the Glasgow's Cadder area in 1993.
'The gun dealer'
The court was told that Steven and the other men had came under police surveillance.
Prosecutor Richard Goddard told the court: "Andrew Steven was the general reactivator and distributor...the gun dealer.
"Dean Kimmins was the customer sourcing guns, Michael Stuart the organiser and Kenneth McMullan was the courier."
McMullan was caught in Argyle Street, Glasgow, in February 2015 with a Smith and Wesson revolver.
Kimmins sourced weapons from Steven having been introduced to him by Stuart.
Kimmins went on to hand over a gun to a man who was later jailed.
Police raided Steven's home in Ayr in March 2015 seizing an haul of guns, tools and ammunition.
The arsenal included a deadly Colt M16 which could discharge 600 rounds a minute.
The court heard that criminals became aware of Steven's skills at reactivating firearms after he left the military.