News Group denied Supreme Court appeal on Sheridan defamation verdict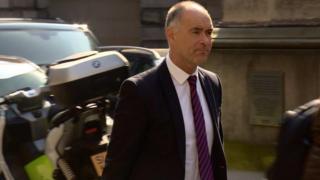 A newspaper group has been denied leave to ask the Supreme Court to overturn the defamation verdict which saw Tommy Sheridan awarded £200,000 in damages.
The former MSP was awarded the sum after winning a case against the now defunct News of The World in 2006.
The paper's owner, News Group, lost a legal bid earlier this year to have the verdict "struck down" following Mr Sheridan's 2010 conviction for perjury.
Its bid to seek a Supreme Court ruling was rejected by appeal court judges.
The case was heard at the Inner House of the Court of Session, by Lady Paton, sitting with Lord Drummond Young and Lord McGhie.
Jailed for perjury
After retiring to consider their decision, Lady Paton said the Inner House could only grant permission for a case to go to the Supreme Court if the appeal raised a point of law of public importance and they were not of that opinion.
The judge said: "As a result we refuse the application, but of course, it is always open to the applicants to go to London and plead directly to the Supreme Court."
Mr Sheridan, who was a Glasgow regional list MSP for eight years from 1999, was awarded compensation after winning the defamation trial in 2006.
It is understood that Mr Sheridan was not paid the money at the time of the original defamation judgement.
In 2010, he was found guilty of perjury while giving evidence during the earlier case and jailed for three years.
He was freed from prison after serving just over a year of his sentence.
News Group raised an action at the Court of Session earlier this year in a bid to have the 2006 verdict overturned.
That case was heard by Lady Paton, Lord Drummond Young and Lord McGhie.
The three appeal judges ruled that the supposed new evidence presented by News Group was not enough to allow them to overturn the verdict.