Labour MP Marie Rimmer cleared of attacking Yes campaigner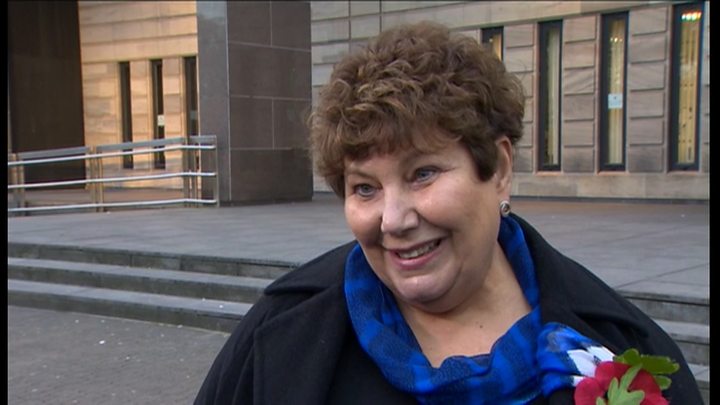 A Labour MP has been cleared of attacking a Yes campaigner in Glasgow on the day of the Scottish independence referendum two years ago.
St Helens South and Whiston MP Marie Rimmer, 69, faced two charges following an incident outside Shettleston Community Centre on 18 September 2014.
On Tuesday, she was cleared of a charge of abusive or threatening behaviour.
She has now been cleared of assaulting a woman by kicking her, after a sheriff found the case against her not proven.
Speaking outside court following her acquittal, Ms Rimmer said: "I know what happened that day. I'm clear what happened that day.
"I've been acquitted today. I just want to get on with life now. I've answered the charges."
Asked if she was worried about damage to her reputation, the MP replied: "None whatsoever. I'm not worried at all.
"It's been clearly explained to me. In Scotland not proven, not guilty is one. It is acquittal."
Ms Rimmer had faced two charges at Glasgow Sheriff Court.
One charge alleged that she acted in a threatening and abusive manner and the other alleged that she kicked and assaulted a woman.
The threatening and abusive behaviour charge related to an exchange Ms Rimmer had with Yes campaigner Dennis Ashcroft, where she was alleged to have used words to the effect of "I don't like you, don't speak to me".
'Storm in a teacup'
At the close of the Crown case on Tuesday, solicitor advocate Liam Ewing, defending, made a motion that there was no case to answer in respect of the charge.
He referred to the law and pointed out there was no foul language or threats made by Ms Rimmer.
Sheriff Hogg upheld the submission and found Ms Rimmer not guilty.
The assault charge alleged that Ms Rimmer had kicked 52-year-old Patricia McLeish outside the community centre.
Sheriff Hogg found the assault charge not proven and said he was "astonished" by some of the evidence in the case, describing it as a "storm in a tea cup".
He said a lack of discretion available to the police on the day of the referendum was "very disappointing", suggesting a "yellow card would have been preferable to a red" in the matter.
He said: "I am not clear any party in this case, apart from the lady police officer, has told me what really happened on that day.
"I have unease with the whole evidence and am still unable to form a clear picture."
The sheriff said he found the case not proven and told Ms Rimmer she was free to go.
In his closing submission, defence solicitor Liam Ewing had said there was "an inescapable" political context to the case which made some more interested in the outcome than they would otherwise be.
He said the charge would not normally be prosecuted at sheriff court level but that the outcome was of "critical importance" to his client.
Fiscal depute Adele MacDonald had urged the sheriff to side with the Crown witnesses and said the evidence showed it was not a "malicious allegation" but had happened.
Ms Rimmer was elected to Westminster in 2015 with a majority of more than 20,000, and had previously served as a local councillor for decades.
---
What is the not proven verdict?
Scotland, unlike most of the world's legal systems, has three possible verdicts in criminal cases - guilty, not guilty and not proven
The legal implications of a not proven verdict are the same as with a not guilty verdict: the accused is acquitted and is innocent in the eyes of the law
Not proven is seen by some as offering additional protection to the accused
But critics argue that it is confusing for juries and the public, can stigmatise an accused person and fail to provide closure for victims
Scottish juries were historically able to return only proven or not proven verdicts
A third verdict of not guilty was introduced in the 1700s and became more commonly used than not proven
However, the option of returning a verdict of not proven was never removed
In more recent years, the general perception has been that a "not proven" verdict suggests a sheriff or jury believes the accused is guilty, but does not have sufficient evidence to convict
Overall, only 1% of all criminal court outcomes during each of the five years 2008-09 to 2012-13 involved the case against the accused being found not proven
---