Bogus police officers stop and steal car in East Kilbride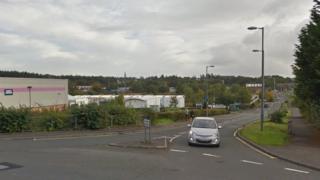 Thieves posing as police officers have stolen a car after pulling it over and persuading the driver to get out.
The two men in police uniform were driving a car fitted with blue flashing lights when they stopped a black Audi A1 in East Kilbride on Sunday night.
After the driver got out, one of the suspects drove off in the Audi and the other followed in the bogus police car.
Both suspects are believed to have failed in a similar theft earlier that night on Hamilton Road in Halfway.
Police said a 28-year-old man was the victim of the successful robbery on Mavor Avenue, East Kilbride, South Lanarkshire, which happened at about 19:00 on Sunday.
The attempted robbery, about half-an-hour earlier, happened near the First Glass pub on Hamilton Road, Halfway, which is between Cambuslang and Blantyre.
'Great concern'
On that occasion the driver refused to leave his vehicle and asked to see the officer's warrant card. The suspects then fled in a grey Volkswagen Passat kitted out as a police car.
The suspect who approached the vehicles in both incidents was described as being white, about 5ft 8in tall and of medium build with short, brown, gelled hair.
He was wearing cargo trousers, a utility belt and body armour - all black - and was seen speaking into a handheld radio.
Det Sgt Graeme Begley, of Police Scotland, said: "This causes great concern that there are individuals out there posing as police officers and managing to con members of the public as they go about their daily business.
"I would like to speak to anyone who was in the vicinity at the time either of these incidents took place and who may have witnessed either incident, or perhaps saw the suspects hanging around the areas in their car.
"I'd also like to remind anyone who has any concerns regarding the authenticity of a police officer to simply ask for identification - any legitimate police officer will always be in possession of this and happy to produce when asked."