Reminder to keep pets out of lochs due to algae concerns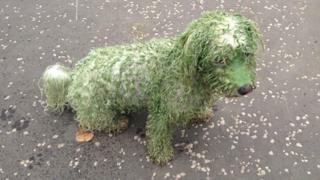 Dogs owners have been reminded by two councils to keep pets out of lochs due to concerns about blue-green algae.
North Lanarkshire Council said the loch at Strathclyde Park was affected by the naturally-occurring algae in certain weather conditions.
It followed claims on social media that a pet had become unwell after swimming in the water there.
West Dunbartonshire Council also said people and pets should stay out of Loch Lomond after the algae was discovered.
In a post on its Facebook page, North Lanarkshire Council reminded dog owners not to let their pets in the water.
It wrote: "Dog owners, please note: Please do not allow your dogs to enter the water at Strathclyde Park.
"There are warning signs in place around the loch.
Toxins
"This is due to the natural occurrence of blue-green algae in the loch. Blue-green algae occurs when temperatures are consistently warmer than usual or when there is little wind and rain, as has been the case in recent weeks.
"There is no way to prevent it but we monitor water quality and put warning signs up when algae is above normal levels."
A spokesman for Loch Lomond and The Trossachs National Park said the algae had been discovered in Loch Lomond at several locations including Drumkinnon Bay, the Balloch slipway, Luss Islands and Balmaha.
They added: "Blue-green algae can produce toxins that can kill animals including dogs. In humans it can cause rashes after skin contact and illnesses if swallowed. Pet owners should keep their animals away from affected waters."
The reminder from North Lanarkshire Council came days after a dog owner claimed online that the water at Strathclyde Park had made her dog ill.
Marie Rodwell wrote on Facebook that she had been up all night with her puppy Jaxson, a Chinese crested powder puff.
She believed that the water at Strathclyde Park "has poisoned my sweet boy". After a visit to the vet, Jaxson is on the mend.
Ms Rodwell said she was pleased that the council had "done the responsible thing and let people know". She said they should now improve the signage in the park.
In a statement to BBC Scotland, North Lanarkshire Council's head of environmental assets, Ken Forbes, said: "Signs around the loch clearly advise dog owners not to allow their dogs to enter the water. We check these signs on a daily basis, and owners must be responsible in complying with these warnings.
"A clear Blue Green algae result was given to our water quality 10 days ago. We have left the warning signs in place until we receive a second clear reading."
Adam Charleston, veterinary surgeon and owner at Vets4Pets Livingston, said most types of algae were not toxic, but blue-green algae is a risk to humans and animals.
He added: "Exposure to blue-green algae can be fatal to dogs, death can occur within a few minutes or few days, depending on the type of exposure.
"Our advice is for pets and their owners to keep away from areas of water they think are affected by blue-green algae and report it to the Environment Agency.
"If an owner thinks their dog may have drunk from or swam in an area where blue-green algae is present, then the pet should be taken to a vet immediately."