Eighteen arrests after Old Firm game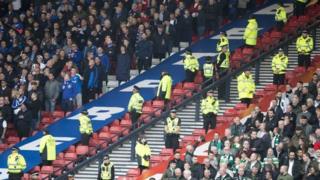 Eighteen people have been arrested following the Scottish League Cup semi-final between Celtic and Rangers.
Police Scotland said all the arrests were made in and around Hampden.
A 27-year-old man was arrested in connection with an alleged sectarian breach of the peace and a 17-year-old man was arrested for allegedly being in possession of a pyrotechnic device.
A further 16 men, aged between 17 and 68 years, were arrested for minor public order offences.
The men are expected to appear at Glasgow Sheriff Court on Monday.