Police investigate spate of Glasgow handbag robberies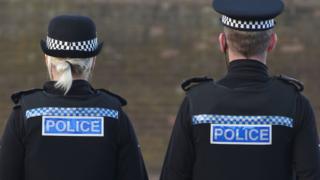 Police are carrying out high-visibility patrols after a series of handbag robberies in Glasgow.
Four women were left with minor injuries after the attacks which took place on Tuesday and Wednesday.
Officers said they did not yet know if the robberies were linked or if it was one man or a group of men who were responsible.
All the victims were on their own when they were targeted. A description of the suspect has not yet been released.
On Tuesday at about 15:30 a 22-year-old woman had her bag snatched at Beaconsfied Road and suffered a minor injury.
At 18:25 on the same day, an 18-year-old had hers taken at Armadale Street. She was taken to Glasgow Royal Infirmary but was released after treatment.
Victims 'shocked'
Later on Tuesday, at 21:25, a 28-year-old woman had her bag snatched at Great Western Road, near St Georges Cross, and also suffered a minor injury.
And at about midnight on Wednesday, a 47-year-old woman was robbed outside Tesco Extra on Dalmarnock Road.
She was taken to the Queen Elizabeth Hospital where she was released after treatment.
Det Insp Alasdair Barlow, of Police Scotland, said the robberies had left the women in a state of shock.
"In all the incidents, one man approached the victims and either attempted to punch the women or drag the women to the ground before making off with their personal property," he said.
"We know that the women were on their own at the time these incidents occurred, which speaks to the character and the cowardice of the person or persons involved.
"We are doing all we can to trace the individual or individuals responsible and ensure that they are held to account for his actions.
"We are analysing CCTV, conducting door-to-door interviews and speaking with local businesses and transport operators."