Fugitive Jonathon Kelly on National Crime Agency 'most wanted' list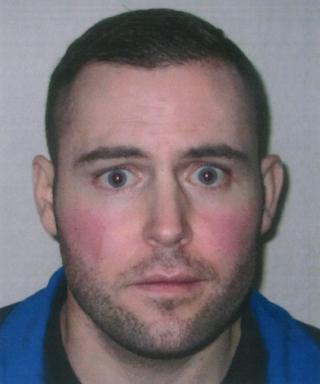 An extremely violent Scottish fugitive on a UK "most wanted" list is likely to be hiding in Spain's expat community, according to senior investigators.
Jonathon Kelly, 36, is one of 10 people who feature on a new list revealed by the National Crime Agency (NCA) and Crimestoppers.
It is believed all the fugitives are in Spain.
Kelly, from Glasgow, is wanted by Police Scotland to serve a jail term for a number of serious assaults.
The violent offender is said to pose a high risk to both police and the public.
'Serious individual'
His crimes include a serious assault in which he stabbed and paralysed his victim using a machete.
Kelly has a series of convictions for crimes including serious assaults, robbery and a breach of the peace between 2002 and 2010.
He received sentences totalling more than 16 years for his crimes.
When he was later released on licence from Low Moss Prison in East Dunbartonshire, he failed to comply with its conditions and the licence was revoked.
Since then, he has been unlawfully at large.
Police claim he is aware he faces serving nine years and 10 months in prison and he is actively avoiding the authorities.
Reward offered
Steve Bennett from the National Crime Agency told BBC Radio's Good Morning Scotland programme that criminals were attracted to Spain because of its climate and lifestyle and because they were often able to live comfortably among the expat community.
He added: "Jonathan Kelly from Glasgow is an extremely violent individual.
"He poses a high risk to both police and members of the public. He was convicted at various courts between 2002 and 2010 and he's received sentences in excess of 16 years, so this is a very serious individual.
"He's committed crimes including assault to severe injury, robbery and breach of the peace. And one of the most serious instances that he was involved in, he actually attacked an individual with a machete and left that person permanently paralysed."
Mr Bennett said police were appealing to the public in both Spain and the UK to trace Kelly.
Crimestoppers has offered a reward of £5,000 for information leading to his location and arrest.
Kelly is described as being 5ft 11in tall and of heavy build. He has blue/grey eyes, short brown hair and occasionally has a beard.
He also has scars to the left and right side of his face, and on his arms and his right hand.
A second man on the list of fugitives is also wanted by Police Scotland.
The NCA said the Scottish force want to speak to Mark Quinn, from Liverpool, on suspicion of supplying amphetamine between April 2013 and April 2014.
The 52-year-old was allegedly involved in an organised crime gang producing, transporting and distributing drugs with a street value of more than £11m.
He is 5ft 9in tall, of large build, with short brown hair.
The publication of the fugitives list coincides with the 10th anniversary of Operation Captura, a campaign which has seen 76 fugitives apprehended out of 86 publicised.