Scott Chalmers on trial accused of raping two women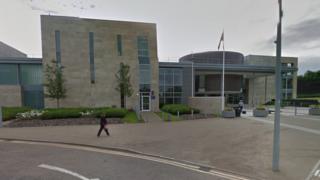 An Ayrshire man has gone on trial charged with raping two women.
Scott Chalmers, 23, faces five charges of rape, two of assault and two of breach of the peace at the High Court in Livingston.
During one alleged rape, the court heard that he threatened to kill the woman's unborn child and rape her grandmother if she refused.
Mr Chalmers denies the charges and has lodged special defences claiming the women consented to sex.
The attacks are alleged to have happened at various addresses in Ayrshire.
He is accused of compelling one of his alleged victims to sit in her underwear and of locking her in the house and threatening to post indecent images of her on social media.
He is alleged to have punched her on the head and body, pulled her hair, poured boiling water over her hand and spat on her.
Mr Chalmers, a prisoner in Glasgow, is also alleged to have thrown lighters, ashtrays and other objects at the woman to her injury.
The alleged victim, aged 23, gave evidence that Mr Chalmers became increasingly abusive and controlling after he started dating her.
Abuse accusations
She said: "I'd be too scared to say no (to sex). Even when I did, he didn't listen to me.
"Because you love someone doesn't mean you have sex 24/7. It was my body to say no to him and I didn't want to do it."
Charges against Mr Chalmers involving a second woman allege that he held her down and raped her on various occasions between January and November 2015 after she had told him to stop.
He is similarly accused of punching and kicking her, throwing ashtrays and other items at her and spitting on her.
The prosecution also claims he held her down, dragged her across the floor by her hair, pressed a finger into her gum and forced her face into a pillow and compressed her neck with his hand to her injury.
Mr Chalmers is further charged with making insulting and derogatory remarks about the woman, threatening her family with violence and becoming aggressive and abusive to her if she didn't have sex with him.
He also locked her in the house, the Crown alleges, damaged furniture and a door with a knife and maliciously destroyed her mobile telephones and other property.
The trial continues.