Fewer people killed in Scottish road accidents in 2015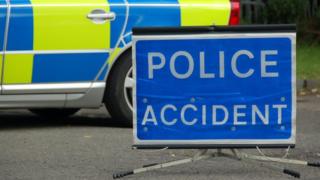 The number of people killed in road traffic accidents in Scotland fell by 17% in 2015, according to Transport Scotland.
Last year, 168 people died in road accidents compared with 203 in 2014.
There was also a 3% drop in casualties with figures falling from 11,307 to 10,968, the lowest number since records began.
As well as a decrease in fatalities, the number of people seriously injured fell by 6% to 1,596.
Scotland's drink-drive limit was lowered in December 2014, reducing the legal alcohol limit from 80mg to 50mg in every 100ml of blood.
Transport minister Humza Yousaf said: "These latest figures confirm the downward trend in road casualties, that key milestone reductions are being met and we are on track to continue to achieve casualty reductions towards our 2020 targets."
Statistics also showed that there was a 6% drop in the number of children injured in 2015, with 972 child casualties reported in road accidents. This included four fatalities which was three fewer than in 2014.
There were eight cyclists killed in 2014 compared with five in 2015. However, there was a 3% increase in cyclists seriously injured, with figures rising from 159 to 164.
In 2015, there were 15 fewer pedestrian fatalities than in the previous year, with the number falling from 59 to 44. There were also three fewer motorcyclists killed with deaths falling from 30 to 27.
Bus casualties were up, though, with an increase from 28 to 49 people injured.