Winter mortality rate down in Scotland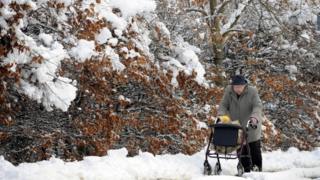 The death rate from December 2015 to March 2016 was down from the previous year, according to National Records of Scotland (NRS) statistics.
In total, 20,503 deaths were registered in the four months compared with 22,013 in 2014/2015.
The 2014/2015 figures represented the highest winter death rate in 15 years.
NRS chief executive, Tim Ellis, said: "There are always more deaths in the winter in Scotland than in any other season."
The seasonal increase in winter deaths for 2015/16 was smaller than in most of the 64 previous winters, but exceeded the level seen in eight of the previous 10 winters.
'No single cause'
Mr Ellis said: "Looking at our figures, which go back to 1951/1952, the long-term trend has clearly been downward. Despite the unusually-high figure for winter 2014/15.
"There is no single cause of additional deaths in winter. Very few are caused by hypothermia and only a small proportion by influenza. The underlying causes of most of the additional deaths include respiratory and circulatory diseases, dementia, and Parkinson's, Alzheimer's and other degenerative diseases."
The death toll registered between December 2015 to March 2016 exceeded the rate for the proceeding four months which was 17,625.
It was also higher than the death rate for the four months that followed which was 17,675.