No child witnesses in court at boy's cemetery death inquiry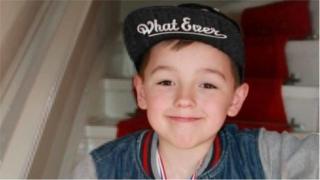 Friends of an eight-year-old boy who was killed by a falling gravestone will not have to come to court to give evidence at a fatal accident inquiry.
Ciaran Williamson was playing in Glasgow's Craigton Cemetery when the stone fell on him on 26 May 2015.
A preliminary hearing was told there were recorded interviews with the children who were with Ciaran.
Transcripts of these will be presented to the inquiry, which is due to start at Glasgow Sheriff Court in November.
A final preliminary hearing was set for next month before the inquiry is due to start.