Pothole compensation claims up in Scotland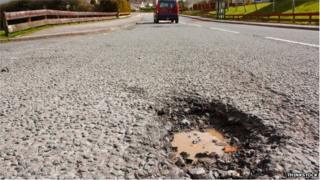 Scotland's pothole compensation claims have risen in 2015-2016 according to the RAC Foundation.
Glasgow had the highest number of claims, 794, and paid £13,929 in compensation while Edinburgh had 512 claims but paid out £29,329.
Perth and Kinross Council were ranked third with 339 claims resulting in £11,562 in compensation.
Orkney Islands Council had the lowest ranking in Scotland with one claim and no compensation paid.
A Glasgow City Council spokeswoman said: "As Scotland's largest city, it's no surprise that Glasgow receives more claims compared to other local authorities.
"The council has invested £75m over the last six years repairing the city's roads network and this has significantly reduced the number of claims received and the number of claims which are successful."
The RAC Foundation said claims against UK councils in the last year topped 31,000, which is one every 17 minutes.
Drivers made 31,483 claims against UK councils for vehicle damage caused by poorly maintained roads.
The total payout by all UK councils was £1,784,238.