Rapist faces lifelong restriction order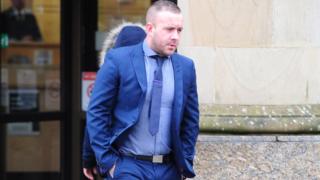 An offshore worker is facing a lifelong restriction order after he was convicted of abusing six women, including the rape of one of them.
A judge said a risk assessment should be carried out on 30-year-old Ben Slee, from Helensburgh, on the danger he poses to women.
Lord Becket said he was considering whether Slee should be supervised for the rest of his life.
Slee is awaiting sentence after being convicted last month.
Lord Becket told him: "It appears to me there is a likelihood that, if at liberty, you may pose a physical or psychological risk to the well-being of members of the public."
Victim kicked
Slee raped one of his victims and attempted to rape another. Four of the women were the victims of beatings and sex attacks as Slee often flew into jealous rages.
The court heard that one of the women had the contents of a ice bucket thrown over her in the Grand Central Hotel, Glasgow, and another woman was slapped and kicked in a house in Helensburgh.
The offences were committed between 2002 and 2015 at various locations in Helensburgh, Garelochhead, Glasgow and Edinburgh.
Defence QC Ian Duguid argued that Slee should be sentenced without the need for a risk assessment.
Mr Duguid said that Slee had "expressed a willingness" to take part in programmes in prison designed to deal with his problems
He added: "He has been in a relationship and his partner gave birth yesterday. He has a supportive family.
"He was able to hold down employment at his father's business and then offshore."
Domestic abuse
During his trial, the jury heard that Slee was angered because one of his partners paid more attention to her cancer-stricken sister than him.
Slee also controlled another woman's Facebook account - despite working in the North Sea at the time.
A jury was also told how he laughed as he tried to drown another girlfriend in a bath.
In court, Slee - who once boasted he could pull "model material" - claimed he was the victim and that the women's lies had ruined his life.
But the jury convicted him of raping one woman and attempting to rape another as well as a catalogue of domestic abuse. Charges of raping two other women were found not proven.