Man jailed for police crossbow shooting during seven-hour stand-off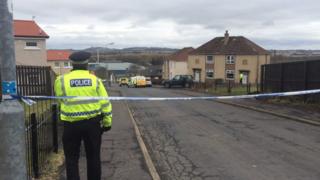 A man who was shot by police after firing a crossbow at officers during a siege in North Ayrshire has been jailed.
Jamie Thomson, 25, was involved in a nearly seven-hour stand-off at his flat in Kilbirnie on 12 March this year.
He threw items at officers, threatened to kill them, let off fireworks and fired a crossbow before being shot in the arm by a police marksman.
Thomson was jailed for nine years at the High Court in Edinburgh.
An earlier hearing was told that police were called to Thomson's flat after residents reported that he was causing trouble outside the building in the early hours.
When officers arrived, a topless Thomson was seen stomping around his home with a number of large knives on the window ledge.
He hurled one of the blades, forcing officers to dive for cover.
'Firearms operation'
Thomson then yelled from his first-floor window: "I'll chop your heads off. Bring it on. I will kill you."
After smashing windows, he then launched fireworks.
The court heard "a full firearms operation" - including three armed response vehicles - as well as police negotiators, arrived in a bid to control him.
Thomson called his ex-partner at one stage to tell her that he was "getting ready" to be arrested or "taken from his home dead".
He went on to throw other items at officers - including glass, cans, bottles, crockery, ice cream tubs and a games console.
The court heard that he had barricaded himself in the flat before grabbing a knife in each hand.
As the surrounding area was sealed off, Thomson refused to back down.
He then aimed a crossbow from his window and fired bolts from the weapon at police.
'Highly dangerous'
As police took cover, a decision was taken to shoot Thomson in the arm in a bid to end the siege.
This happened at about 12:15 - nearly seven hours after officers arrived.
Police then stormed his flat and handcuffed Thomson before he was taken to hospital.
At the High Court in Edinburgh, judge Lady Scott told Thomson that she had no other option but to send him to prison.
She said: "This was a highly dangerous and protracted course of violence directed at police officers acting in the course of their duty in seeking to prevent this disturbance and latterly to protect life.
"Your actions in throwing fireworks and shreds of glass directly at them, followed by shooting at them using the crossbow, placed the individual police officers in grave danger.
"By your plea you have accepted that you had a wicked intention to kill the police involved or were wickedly reckless as to whether that was the result."