Pup Ollie first patient at new seal hospital in Oban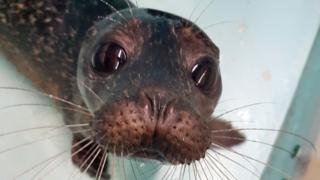 A seal pup is the first animal to be treated at a new hospital set up to care for injured and distressed seals.
The six-week-old male common seal was found exhausted and suffering from seizures on the beach at North Ledaig, near Oban.
It has been taken into the care of Oban Sea Life Sanctuary's new hospital and been named Ollie.
The pup has been receiving treatment, including glucose by injection, to increase his weight.
Rescuer Farrah Minchin said: "We received a phone call from a local caravan site owner to say there was a pup on the beach and it was all floppy.
"The pup was obviously skinny and was having seizures. We brought him back to site and a vet administered glucose by injection.
"Before long the pup was bright and alert and ate almost half a kilo in one go.
"He is only six-to-eight weeks old and we think he went for a few days without food, exhausted himself and hauled out on the beach.
"It was touch and go for the first 24 hours."