Ex-wife's disgust at unpaid work for man over child images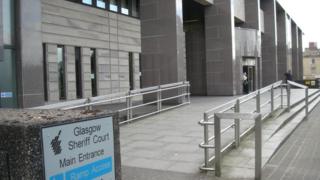 A man who admitted downloading 14,382 indecent images of children has given a community payback order.
Richard Smith, 45, was caught after his estranged wife contacted police in July after finding images on a computer at their former home in Cambuslang.
At Glasgow Sheriff Court, Smith was placed on the sex offenders' register for two years and told to carry out 140 hours of unpaid work within a year.
Smith's ex-wife said she was "disillusioned" he had not been jailed.
Speaking after sentencing, she said: "I am very disappointed and disillusioned with the criminal justice system that someone who has committed such a sickening act over a four-year period is only served with a community service programme when people are in jail for crimes of a far less sinister nature.
"I have to just put this behind me now and move on with my life."
As part of the community payback order, Sheriff Sam Cathcart also ordered that Smith participate in a programme for sex offenders.
'Sickening abuse'
The court heard Smith and his wife had recently split up when she found the images of children on a number of computer drives which belonged to him.
She contacted police on 16 July and they removed the equipment and later searched Smith's parents' house in nearby Burnside where more computer equipment was taken away.
The court heard that the images discovered involved girls between eight and 16 years old and had been downloaded from internet websites.
Smith admitted downloading the images between December 2012 and January 2016.
A spokesman for NSPCC Scotland said: "These were extremely worrying offences that involved a large number of indecent images. Behind every single one of these pictures is a young victim who should never have been subjected to this kind of sickening abuse.
"These are real children who will need considerable support to recover from the crimes inflicted on them.
"Possessing and making indecent images of children is an appalling crime and those convicted of them should not be dealt with lightly. It's essential that police continue to investigate those responsible and bring them to court and people on the sex offenders' register for crimes of this nature must be strictly monitored."