Officer cadet tells of stranding at sea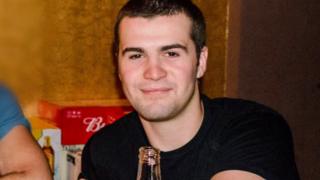 One of four officer cadets from City of Glasgow College stranded at sea on a ship off south east Asia for about four weeks has spoken of the ordeal.
Ruairidh Hanna, David Gorniak, Graeme Deacon and Gavin McPhail were among 23 crew on Hanjin Louisiana.
The container ship was refused entry to ports after the company that owned it filed for bankruptcy.
Mr Hanna, 22, from Beauly, near Inverness, said the crew worried about running out of food while stuck at sea.
He also told BBC Radio Scotland's Newdrive programme there was a lack of communication about their situation, causing frustration for the whole crew.
Hanjin Louisiana has now been able to dock in Singapore and the four cadets have been preparing to fly back to Scotland.
Mr Hanna thanked his local MP Drew Hendry and his union, Nautilus, for their help in bringing their ordeal to an end.
'We were drifting'
He said: "It was a bit of a shambles.
"There was a lack of communication with all involved, including internally between the various companies. Nobody seemed to know what was going on.
"We were getting members of our families to cut and paste articles from news websites and send them to us in emails to find out what was going on."
Mr Hanna said seafarers were always prepared for unexpected to changes to their journeys, but said for a time there were concerns onboard about dwindling supplies.
He said: "We were drifting off Colombo (Sri Lanka) and we started running out of food.
"We had nine days of food left for a six day voyage to Singapore. That left us with a three day margin of error.
"We started running out of fresh fruit, fresh vegetables and eggs were running out and flour was running out.
"Luckily there weren't any problems on the way, but if there had been a major engine failure on the way I'm not sure what we would have done."
'Big relief'
Mr Hanna said his confidence in a career at sea had been shaken by the events of the past few weeks, but added that he planned to complete his training. This involves returning to sea in October for two months.
A total of 2,500 seafarers have been affected since shipping company Hanjin filed for bankruptcy. Ports around the world have refused to allow Hanjin ships to dock.
Mr Hanna's mother, Rhona Maclennan, told BBC Scotland earlier that it was a "big relief" that he had docked in Singapore and that she was "beginning to get excited" about his return home.
She said: "There were so many worries and uncertainties about how long they were likely to be at sea."
Ms Maclennan said her son should be back in the UK on Thursday morning.
She told BBC Radio Four's Today programme the docking of her son's ship in Singapore was the "best news".
"We have been waiting for this for some time," she said.
Ms Maclennan said it had been difficult to stay in contact with her son.
She said: "They were sitting 40 miles from shore so there was no signal. The only contact was the ship's email, but emails were not always going back and forth."
Mr Hanna had expected to have to remain on the ship until December.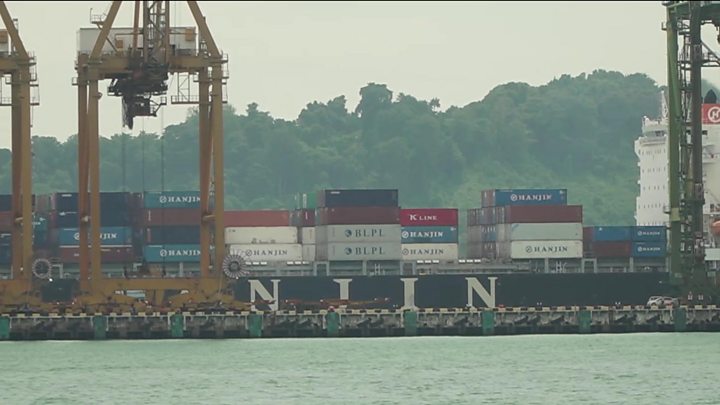 Singapore's High Court granted a temporary reprieve for the ships to dock without fear of being seized - allowing several to dock in recent days.
Hanjin filed for receivership in South Korea in August after attempts to bail out the indebted company failed.
There are an estimated 89 Hanjin ships out of its 141-vessel fleet in difficulty, and some have been seized by creditors.
The troubled shipping group has debts of more than $5bn and has struggled to raise funding to rescue $14bn (£10.5bn) worth of cargo stranded round the world following its collapse.
Drew Hendry, MP for Inverness, Nairn, Badenoch and Strathspey, said he was "delighted" that the cadets were finally coming home.
He said: "They have had to endure a month of being stuck on board with little communication and without knowing when they might be able to leave."