Police stop 1,000 people in hunt for teenager Scott Diver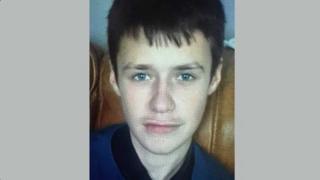 Police searching for a missing 16-year-old boy say they have spoken to 1,000 people as part of an operation to find him.
Scott Diver, from Clydebank in West Dunbartonshire, was last seen at home by his father on 17 September.
Officers conducted a "stop and speak" at the town's bus station, shopping centre and near his home on Saturday to ask if people remembered seeing him.
They said they were currently looking through the information received.
The teenager is described as being 5ft 7in tall, with a slim build, dark hair and blue eyes.
'Extremely distressed'
When last seen, he was wearing a navy blue Adidas tracksuit with light blue stripes down the arms and legs, a white t-shirt and navy Adidas training shoes with grey stripes.
Insp John Mullen said: "I would like to thank everyone we spoke to for their co-operation. We are looking through all the details gathered during the operation and will follow up any information gained from this.
"Scott's family are extremely distressed by his disappearance. I would again urge anyone who has any information on Scott's whereabouts, or any information that may assist this enquiry to contact the team at Clydebank Police Office through 101."