Funeral held for son of former loyalist paramilitary Johnny Adair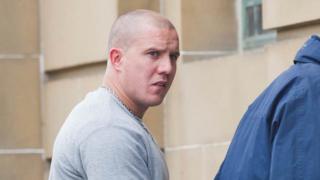 A funeral service has been held for the son of former loyalist paramilitary leader Johnny Adair who was found dead at a property in Troon two weeks ago.
The body of 32-year-old Jonathan Adair Jnr was discovered at a flat in Templehill on 10 September.
It is understood he died after taking drugs shortly after being released from a prison sentence.
More than 100 people attended his funeral at Holmsford Bridge crematorium, near Irvine, on Friday.
The hearse carrying his coffin had flowers spelling out dad, son and brother.
Jonathan Adair's father, Johnny Adair, is a former leader of the outlawed Ulster Freedom Fighters (UFF).
The family was forced to flee Northern Ireland in 2003 after a series of murders linked to a loyalist feud.
When he was 18 and still living in Northern Ireland, Jonathan Adair was shot in both legs in the loyalist lower Shankill area of west Belfast.