Woman guilty of abusing OAPs at care home in Stevenston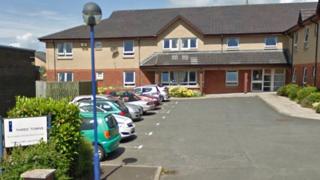 A carer has been convicted of attacking vulnerable residents at a nursing home in North Ayrshire.
Helen McCracken, 60, slapped and pushed three women, all in their 80s and suffering from dementia, at Three Towns Nursing Home in Stevenston in 2015.
She denied the charges against her but was convicted after former colleagues gave evidence against her.
At Kilmarnock Sheriff Court, sentence on McCracken, who is from Kilwinning, was deferred.
'Very serious'
Sheriff David Hall told McCracken: "I found the three civilian witnesses to be credible and reliable and doing their best to tell the truth."
He said the "very serious" nature of the charges meant he was calling for full background reports.
Sheriff Hall added: "You should understand that all options are open to me in this case."
McCracken was convicted of slapping one resident on the head, twice seizing another by the hair and pushing her onto a toilet and striking a third on the head with her hand in June and July 2015.
Witness Karen Priestley, who was also a carer, told the court: that she saw McCracken strike a resident on the head because the dementia sufferer was "vocal" and had lashed out.
Ms Priestley said: "Helen would boss you around and she was related to the manager. I didn't feel supported. I was upset and shocked that it happened."
It was for this reason, the witness said, that staff were initially reluctant to report McCracken for other instances of cruelty and assaults.
'I slapped her'
After attacking another resident, McCracken told shocked staff: "I just sorted her out. I slapped her."
Another carer, Kayleigh McLean, told the court that she was working with McCracken, when another elderly dementia sufferer was not cooperating as they tried to get her out of bed.
Ms McLean said: "Helen grabbed her by the hair and she basically forced her into the bathroom. There was no need to do it.
"The old lady was getting upset, saying, 'I'm sorry'. I was shocked and had to ask myself if I'd witnessed what I'd just seen."
Alison Price, a registered nurse and then assistant manager at the home, said McCracken was ordered to a meeting where the allegations against her emerged.
McCracken denied wrongdoing and claimed colleagues had a vendetta against her.