Lottery funding for Iona library project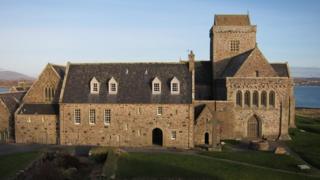 The Iona Cathedral Trust has received £100,000 to better conserve items held in a library above the cloisters of Iona Abbey.
The funding has been provided by the Heritage Lottery Fund.
In the collections of the island library are Gaelic manuscripts and examples of Celtic art.
The lottery funding has gone towards a project set up to restore and repair several hundred items in the library over the next two years.
A digital catalogue of the library's Heritage Collection is be made available online by the University of the Highlands and Islands as part of the project.
The oldest books in the collection date from the 17th Century.
The library's Gaelic Collection includes books from the 19th century.
The project is being supported by a number of organisations including Historic Environment Scotland and the Island of Iona Community Council.
Iona Cathedral Trust chairman, the Very Rev Dr Finlay Macdonald, said: "We are delighted this gem of a library can be made more accessible and our valuable heritage preserved thanks to this support from the Heritage Lottery Fund.
"Iona Cathedral attracts many visitors, but the library is hidden away over the cloisters. Many more people will be able to enjoy it thanks to this grant."
Lucy Casot, head of Heritage Lottery Fund Scotland, added: "This is a great project that, thanks to the National Lottery players, will transform the Iona Abbey Library Project for future visitors and encourage everyone to enjoy its amazing heritage collections."