Big moves for vessels at Scottish Maritime Museum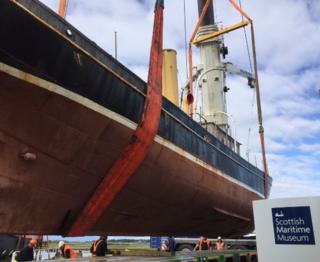 Two historic ships are being moved to new homes within the Scottish Maritime Museum in Irvine, North Ayrshire.
The steam yacht SY Carola and the puffer Spartan are being moved from other berths to the front of the museum's Linthouse building.
The SY Carola was built in 1898 by Scotts of Bowling on the River Clyde. It is possibly the oldest seagoing steam yacht in the world.
The Spartan is a Clyde puffer that was built in Kirkintilloch in 1940.
Both vessels are being moved by crane on to a wheel-based loader which will help transfer them nearer to the Linthouse.