Man murdered partner after she had sex with his friend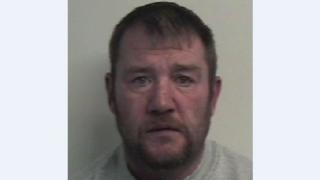 A man has been convicted of brutally murdering his partner after discovering she had sex with his friend.
James McCarten, 51, battered 43-year-old Anna Rosenberg after finding her and 62-year-old Alan McLean together at his flat in Glasgow on 2 May 2015.
Prosecutors described the victim, who suffered 122 injuries, as being "pummelled to a pulp".
McCarten was also convicted of trying to cover up the murder and assaulting Mr McLean. Sentence was deferred.
The High Court in Glasgow heard that McCarten had been in a relationship with Ms Rosenberg for about 18 months.
Relationship split
The victim, who was from Bearsden, East Dunbartonshire, often stayed over at his flat in Maryhill.
The jury heard that McCarten had allowed fellow builder Alan McLean to stay with him after he had split up from his partner.
While McCarten was out of his flat, however, Mr McLean and Ms Rosenberg had sex.
The 62-year-old told the court how he tried to put on his clothes when McCarten returned home as a terrified Ms Rosenberg lay in bed.
Mr McLean recalled: "He was shouting and bawling 'how could you do this to me'.
"Anna kept saying she was sorry, she was crying. James was upset, but that was understandable."
Mr McLean said McCarten went on to headbutt him - after asking him to take his glasses off.
McCarten then kicked his friend out of the flat before launching a brutal attack on Ms Rosenberg.
The trial heard how the victim, whom he also tried to throttle, suffered 122 injuries, including multiple fractured ribs.
'Saw red'
McCarten later left the flat to watch a boxing match at a friend's house.
The killer claimed he only realised Ms Rosenberg was dead when he returned the next day.
He offered to plead guilty to the reduced charge of culpable homicide, saying that he loved Ms Rosenberg and did not "realise the extent" of his attack.
McCarten admitted he "saw red" and "unleashed" a "lot of blows" on the victim but did not intend to kill her.
But the jury convicted him of murder after hearing how Ms Rosenberg had been "pummelled to a pulp" and how McCarten tried to clean up the flat and put clothes on her afterwards.
Speaking after the verdict, Det Insp Mark Bell described McCarten's crime as "selfish brutality".
The detective, from Police Scotland's major investigation team, said: "A woman has needlessly lost her life and a family has been left devastated by the loss of a treasured loved one, due to the selfish actions of McCarten.
"Anna died as a result of the selfish brutality inflicted on her by her partner. There is no place in a modern, progressive society for this type of abuse.
"Nothing can be done to reverse what happened on that day, however, I sincerely hope the verdict will bring some small degree of comfort to Anna's family and friends."