Glasgow shopkeeper sentenced over £47,000 duty label scam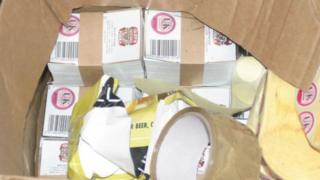 A Glasgow shopkeeper who failed to pay £47,560 of duty on whisky and vodka has been given a probation order.
Raminder Singh Gosal was caught when HM Revenue and Customs (HMRC) searched his shop, home, car and storage containers in the city in September 2011.
They found bottles of spirits and more than 4,000 counterfeit UK duty labels.
At Glasgow Sheriff Court, Gosal was tagged for 10 months, told he will be supervised for 12 months and ordered to carry out 200 hours of unpaid work.
The tagging order means he will have to stay inside his home between 19:00 and 07:00.
Confiscation hearing
Gosal also faces a proceeds of crime action at a later date to recover the unpaid tax.
Sheriff Sam Cathcart told him: "When you knew illegality was involved you decided to sell the material as if duty had been paid."
Gosal admitted keeping goods on which duty had not been paid with intent to defraud HMRC and having 4,908 counterfeit UK duty stamps.
The court heard that his scam was discovered when HMRC officials conducted searches at his Mindy's Mini Mart store in Shettleston Road, his home in Mount Vernon and two storage containers in the city.
They found a quantity of Glen's vodka and High Commissioner whisky with fake "duty paid" labels.
The court heard that some of the bottles seized should never have been on sale in the UK as they were duty exempt and destined for sale abroad.
Defence QC Gordon Jackson told the court that when Gosal received the goods from his supplier he believed the money he paid included duty.
When he learned that duty had not been paid, he did nothing to report the matter to HMRC as he could "not afford to take the hit" for commercial reasons.
Speaking following sentencing, Anne-Marie Gordon, from HMRC's fraud investigation service, said: "Gosal's actions cheated the exchequer out of significant sums of money, which funded a lifestyle well beyond his legitimate income.
"His counterfeiting fraud allowed him to sell cases of spirits at a very low price, giving him an unfair advantage over his honest competitors.
"Gosal set out to deliberately defraud taxpayers and line his own pockets at the expense of vital public services, which alcohol duty and VAT help to fund."