Tributes to firefighter injured by wall collapse during blaze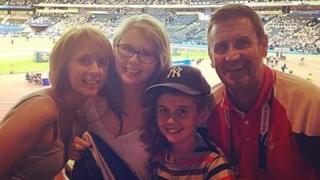 Tributes have been paid to a firefighter who was badly injured by a collapsing wall while tackling a blaze at a disused building in Inverclyde.
Andrew Adams, 49, suffered "life-changing injuries" in Greenock on Thursday and remains in intensive care.
His family expressed thanks for all the support shown, and said the true extent of his injuries was still uncertain.
The fire service described Mr Adams as a popular and respected figure. The blaze is being treated as suspicious.
The firefighter, who is known to friends as Andy, has two children with his partner of 25 years, Clare Linning.
'Fantastic father'
She said: "Andy is a wonderful partner and a fantastic father.
"He is not only a committed firefighter but a real community spirit who has enjoyed working with young people through his involvement in the Prince's Trust and a local cycling project.
"As a family, we are pulling together at this very difficult time with the help of each other, our friends and Andy's colleagues from the Scottish Fire and Rescue Service."
She added: "We have been overwhelmed with messages of support and we are taking great comfort from them.
"But the true extent of Andy's injuries are still uncertain and we would therefore ask that our privacy be respected at this time."
Mr Adams joined the fire service in 1989 as a retained firefighter in Greenock and became a full-time in 1992.
The station manager at Greenock, Kevin Hughes, 50, has known Mr Adams for 23 years and described him as "one of the most popular and respected figures within the service".
He added: "He is not just a colleague but a genuine friend to many of us here.
"We are doing everything we can to support Clare, Hannah and Darren at this difficult time."
Alex Clark, deputy chief officer for the Scottish Fire and Rescue Service, added: "When a firefighter is injured in the line of duty it affects the entire Scottish Fire and Rescue Service family, and the injury of Andrew Adams has deeply resonated with us all.
"Clare, Hannah and Darren are uppermost in our minds and we are giving them the fullest support possible at this very difficult time."
The investigation into the cause of the blaze in Greenock is ongoing.