Man jailed over nightclub slashing in Greenock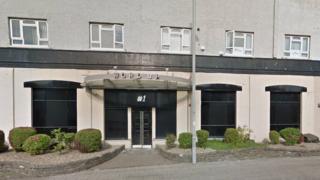 A man has been jailed for five years for carrying out a slashing attack in a nightclub in Greenock, Inverclyde.
Andrew Sutherland, 27, assaulted 29-year-old Christopher McAuley, in the town's Word Up club in December 2015.
The High Court in Glasgow heard the men were known to each other and had some "minor confrontations" beforehand.
Sutherland was originally charged with attempted murder but had a guilty plea accepted to a reduced charge of assault to severe injury and danger of life.
'No excuse'
Judge Lady Stacey told Sutherland that there was "no excuse" to go out armed with a knife and use it.
The judge said the jail-term would have been six years, but for his guilty plea.
Prosecutor Jo McDonald previously told the court that the attack happened at the club on 20 December last year.
She said that Sutherland and his victim had been involved in a a series of "minor confrontations" on the dance floor.
Sutherland had lashed out with the blade at Mr McAuley when a bouncer tried to separate the pair.