Firework lit in car 'flew into garden' in Bearsden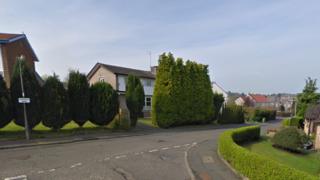 Police are appealing for witnesses after a firework was fired from a car into an East Dunbartonshire garden where a three-year-old boy was playing.
A rear passenger of the car lit the firework, which then flew into the garden in Montrose Drive, Bearsden.
The incident happened at about 18:30 on Sunday. Police said the boy was uninjured but "shaken and upset".
The car involved was a navy blue Volkswagen Golf and believed to be a 53 plate.
Officers said they believed the car had been driving around the wider Bearsden area before the incident.
There were four people in the car, which drove off in the direction of Stockiemuir Avenue after the firework was let off.
The driver was 18-20 years old with short dark hair. The male back-seat passenger was also aged 18-20 with short, dirty blond hair and wearing a navy jacket or long-sleeved top.
Anyone with information is asked to contact the police.