Nicky Coll sentenced over death of biker Alexander White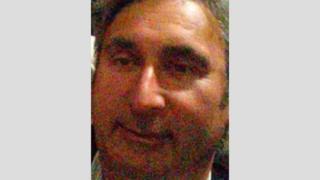 A man who caused the death of a motorcyclist has been ordered to carry out 250 hours of unpaid work.
Nicky Coll, 26, knocked Alexander White off his motorbike in a collision in Glasgow in October 2014.
Mr White's helmet fell off in the accident and he died from his injuries.
At Glasgow Sheriff Court, Coll admitted causing death by careless driving. He was handed a community payback order and banned from driving for three and half years.
The accident happened as Coll, from Port Glasgow, turned his Ford Fiesta from Polmadie Road into Polmadie Street.
He hit Mr White, 53, who was driving in the opposite direction.
Sheriff Daniel Scullion said victim impact statements from Mr White's wife and daughter "paint a powerful and vivid picture of the enormous impact Mr White's tragic and untimely death has had and continues to have on his family".
The sheriff also noted that it was not suggested that the crime involved a "deliberate course of bad driving" and said Coll had shown "genuine remorse".
Defence counsel Steven Love said his client asked for him to express publicly his sincere condolences and said the responsibility for causing Mr White's death is "almost overwhelming" for him.
He said Coll did not see Mr White coming towards him, and he did not take any risks while making the right-hand turn.