Wall collapses on to street in Partick in Glasgow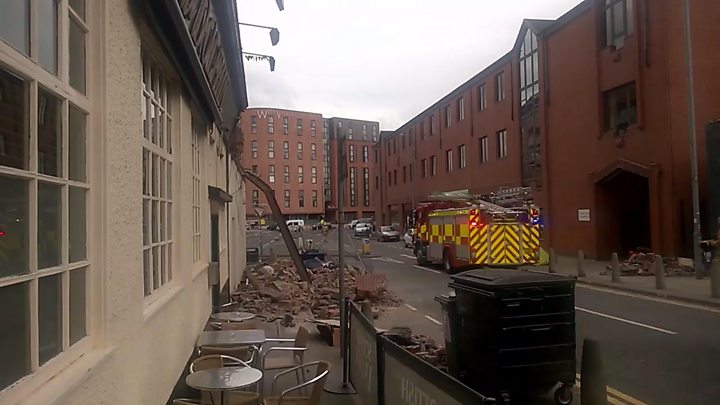 A brick wall has collapsed from a restaurant roof garden in the Partick area of Glasgow and fallen on to the street below.
Residents from an adjoining block of flats and customers from a nearby pub had to be led to safety following the collapse in Benalder Street at about 12:00.
It is understood the structure fell about 6m (20ft). The restaurant was closed at the time.
No-one was injured.
The Scottish Fire and Rescue Service said a major incident unit, along with two urban search and rescue support pumps, three fire engines and a heavy rescue vehicle had all been deployed to the incident.
Gas engineers are also on site.
Stephen McBride, owner of the Dolphin pub, which is next door to the building where the wall collapsed, told BBC Scotland that staff heard a loud bang and the rubble hit a passing car.
"The wall came down at about 11:50 today. Thankfully nobody has been injured," he said.
"It has affected my business. There were about three or four customers in the pub at the time.
"The wall's been unsafe. There has been fencing round it for a wee while and the factors were in the process of getting it repaired."
After evacuating the public house and residents from the three-storey tenement, firefighters said a "thorough search" of the residential building was carried out.
Building Control officials were also alerted along with Police Scotland.
A cordon remains in place.
Firefighter Brian Winter said: "Our priority was to ensure the safety of the public so we carried out an evacuation and then conducted a thorough search.
"All persons were accounted.
"The wall was right above the restaurant, surrounding its roof garden, and a part of that wall fell around 20 feet onto the pavement below.
"We have now cleared that debris from the area and made the scene safe."