'Pitch black' Cineworld reopens after power failure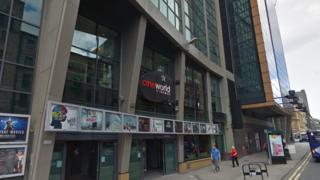 A cinema that was closed after a power cut forced customers to evacuate the building in "pitch black" conditions has reopened.
Cineworld on Glasgow's Renfield Street was closed at 19:00 on Saturday after its emergency lighting back-up system also failed.
Customers at the 62m tall (203ft) building, which is Europe's tallest cinema, reported having to use light from their phones.
The cinema reopened on Monday evening.
In a statement posted on Facebook, Cineworld said: "We can confirm that Cineworld Renfrew Street is now open for business.
"The cinema was closed on Saturday evening due to a power cut.
"We're really sorry for any inconvenience and have offered refunds to anyone affected. We are looking forward to welcoming customers back to our cinema."
Customers had described their exit from the 18-screen cinema after it was plunged into darkness.
'Pitch black'
One cinema-goer tweeted: "Made to evacuate from the 5th floor - 10 plus flights of stairs in complete darkness, no emergency lighting and no staff present."
Another said: "Power cut in building, so dangerously lead down a pitch black fire escape with no torches."
Cineworld said customers who have purchased tickets for Renfrew Street could claim a full refund through customer services.