Legal protection for Glasgow's 'dear green places'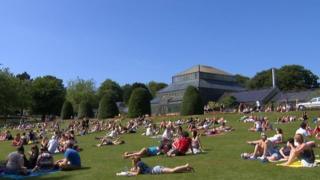 Dozens of outdoor areas in Scotland's largest city have been given protected status as green spaces.
Glasgow City Council has entered into a legal agreement with the charity Fields in Trust, which aims to safeguard recreational areas.
Under the scheme, 27 sites can only be used as playing fields, open spaces and parks for leisure and sport activities.
The protected sites include Glasgow Green and Cathkin Braes and a number of less well-known locations.
Glasgow City Council leader Frank McAveety said: "It's widely acknowledged that having access to outdoor space and undertaking some level of activity has numerous mental and physical benefits for individuals and families.
"We were delighted to take part in this scheme to guarantee areas for people to use and enjoy now and in the future."
'Healthier lives'
The council said the decision to protect recreational areas was part of the city's Commonwealth Games legacy project.
Brian Samson, chairman of Fields in Trust Scotland, said: "At a time when there is pressure on land for housing and commercial development we applaud the decision to safeguard recreational space for future generations and provide opportunities for families and the wider community of Glasgow to enjoy time outdoors.
"Access to parks and playgrounds contributes to physical health, mental wellbeing and community cohesion resulting in more active and longer, healthier lives."
The sites which now have protected status are:
Botanic Gardens
Cathkin Braes
Darnley Mill
Ashtree Park
Auldhouse Park
Binghams Pond
Broomhouse Park
Castlemilk Park
Dowanhill Park
Garnethill Peoples Park
Garrowhill Park
Gorbals Park
Govanhill Park
Hayburn Park
Holmlea Park
Maxwell Square
Milton Park
Naseby Park
Newlands Park
Queens Park
Riccarton Street Park
Robroyston Park
Rosshall Park
Thornwood Community Park
Yoker Recreation Ground
Baltic Street
Glasgow Green