Vandals ate ice cream during rampage at Glasgow school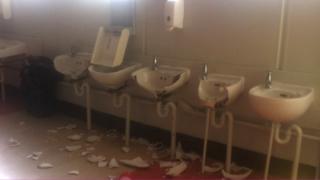 A head teacher has condemned vandals who made themselves snacks from his school's canteen while causing £10,000 of damage to classrooms.
John Daly said every room at Gowanbank Primary, in Glasgow's Nitshill area, was "trashed" on Sunday and Monday.
Computer monitors were scratched or smashed, smart boards pulled from walls and obscenities daubed on white boards.
The vandals also helped themselves to jelly, ice cream and popcorn from the school canteen and staff room.
Mr Daly said: "It looks like a bomb has gone off.
"Nothing was stolen, everything was just trashed. It was nothing but wanton vandalism and it is very deflating.
"It may only be a building but this completely takes away from providing our children with a safe and protective learning environment."
Mr Daly said he was trying to replace the school's IT equipment and said teaching staff would find it difficult to cope without it.
Efforts are also being made to replace crayons and drawing equipment which was either broken or contaminated during the attack.
Councillor Liz Cameron, executive member for children, described those who had carried out the attack as "thugs".
She said: "It is soul destroying. Our schools are beacons of light in what is a very troubled world and they must be treated as such.
"We have the city's children during the day and we instil values and citizenship in them - but we can't do that alone.
"We need parents and community members to reinforce those values."