Scotland's largest urban nature park given £4m lottery grant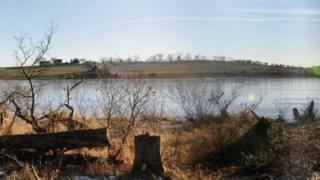 Scotland's largest urban nature park is to be created after the project was awarded a £4,461,800 lottery grant.
The Seven Lochs Wetland Park covers lochs, parks, nature reserves and woods between Glasgow and North Lanarkshire.
New paths and visitor facilities will be added around Hogganfield, Frankfield, Bishop, Johnston, Garnqueen, Woodend and Lochend Lochs.
The Heritage Lottery Fund has also funded other projects in Coigach-Assynt, Almond and Avon and Langholm.
The Seven Lochs Wetland Park covers more than 16sq km from the Glasgow's Riddrie area to Coatbridge in North Lanarkshire.
It includes two sites of Special Scientific Interest, five local nature reserves, Drumpellier Country Park, archaeological sites and is surrounded by various historic buildings such as Provan Hall in Easterhouse.
The idea for the park was developed by Glasgow and Clyde Valley Green Network - a partnership of Glasgow City Council, North Lanarkshire Council, Forest Enterprise Scotland, Scottish Natural Heritage and Conservation Volunteers Scotland.
The partnership's vision is to create a new wetland area of national significance in the central belt, which protects and enhances biodiversity, while promoting health and wellbeing and economic regeneration.
Protected areas
Glasgow councillor Maureen Burke, chair of the Seven Lochs Partnership, said the lottery funding would allow the project to move forward.
"It offers people a fantastic opportunity to engage with important natural heritage first hand and increase their understanding of why particular local habitats are internationally important, and how these need to be protected," she said.
"The work that's involved in creating what will ultimately be Scotland's newest and biggest nature park is a great challenge, and one which we are sure everyone, whether a local resident or visitor, will embrace and become actively involved in."
The park project, which will initially cost £6.8m, aims to create gateways to the park at Hogganfield Loch, Provan Hall, Drumpellier Country Park and Glenboig Life Centre.
The project also includes the development of walking and cycling routes linking the gateway sites and improvements to paths, signage, interpretation and management across the whole park.
There will also be a range of activities for visitors as well as opportunities for education, training and volunteering.
North Lanarkshire Council leader Jim Logue said the park would have a "tremendous immediate impact" on local communities.
"This project will become an attraction in its own right bringing many more visitors to enjoy the area's rich heritage and showcasing some of the best natural environment Glasgow and North Lanarkshire has to offer," he said.
Lucy Casot, head of the Heritage Lottery Fund in Scotland, said the grant of more than £4.4m would help "develop nature-based tourism" in the central belt.
"Both the history and natural heritage of the area will be protected and celebrated, bringing economic benefit to local communities and Scotland as a whole," she said.