Couple in court after dog attacked pensioner in Paisley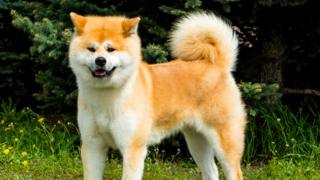 A man and woman have appeared in court accused of being in charge of an "dangerously out of control" dog that attacked a pensioner.
Sylvia Baillie was left scarred for life after the attack by a Japanese Akita in Paisley on 13 July.
Patrick Maher, 45, and Leeanne McHugh, 35 appeared in private at Paisley Sheriff Court.
They were charged with breaking the Dangerous Dogs Act. They made no plea or declaration.
Maher faces two additional charges under the same section of the act.
Prosecutors claim he was in charge of the dog at a Keystore in Paisley's Glenburn Road on 26 June when it was again dangerously out of control.
And on 30 June it is said to have attacked another person in Paisley's Glenfinner Road.
The case was continued and the pair were released on bail to an address in Renfrew.