Driver suspended after 'runaway' bus crash in Glasgow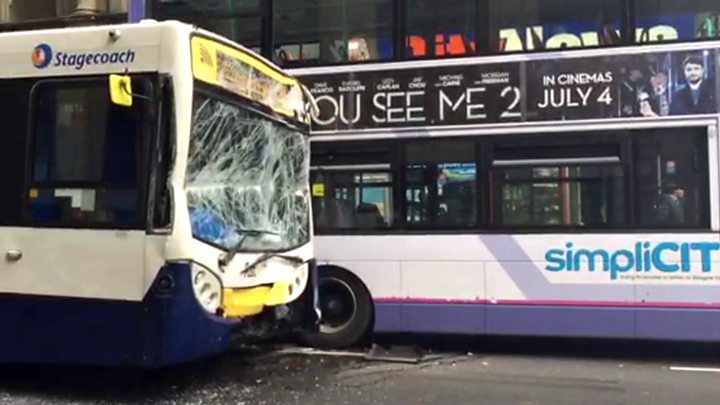 A bus driver has been suspended after his "runaway" vehicle crashed in Glasgow city centre on Monday.
The bus ploughed into other vehicles and two men were taken to hospital after the incident.
Eyewitnesses said a service bus with no driver on board crashed at about 15:45. Two other buses and a car were damaged.
A spokesman for First Glasgow said the driver concerned had "been relieved of his duties" while the company investigated.
A Police Scotland spokeswoman appealed for information following the incident.
She said: "Around 15:45 police received a report of a bus apparently travelling south on Renfield Street having collided with a stationary car at traffic lights at West George Street. The car moved forward and struck a pedestrian on Renfield Street.
"The bus continued to travel on Renfield Street before it collided with a stationary bus near to St Vincent Street, which then nudged into another stationary bus on Renfield Street."
Renfield Street was initially closed, leading to major city centre congestion, but later reopened.
'It hit four buses'
Paul McNamee, editor of the Big Issue in Scotland, was walking on Renfield Street when the crash happened.
He told the BBC: "There didn't appear to be anyone on the runaway bus.
"It then collided with a single decker.
"It hit four buses and then sent one into a fifth.
"I didn't see anyone jump off - it appears the emergency doors sprang open with the collision."