Man who brandished machete in Glasgow sent to hospital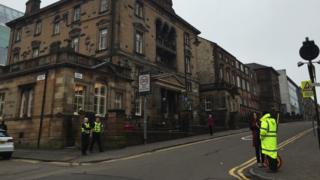 A man accused of brandishing two machetes and assaulting a man in Glasgow city centre has been sent to hospital by a court.
Mohammed Bhutta, 27, pled not guilty to breaching the peace in Garnethill on 18 March on the grounds of mental illness.
This defence was accepted at Glasgow Sheriff Court and Bhutta was acquitted and ordered to undergo treatment.
He was charged with assaulting Elliot Roberts on Hill Street by throwing a blade at him.
He was also charged with possessing two machetes on a number of streets in the Garnethill area and resisting arrest on Renfrew Street.
The court heard that there was no question the actions were carried out by Bhutta.
Bhutta lodged a special defence that, at the time, he was lacking criminal responsibility due to a mental illness.
Sherriff Martin Jones QC said the accused was unable to appreciate the wrongfulness of his crime.