Dirty equipment found in Vale of Leven maternity unit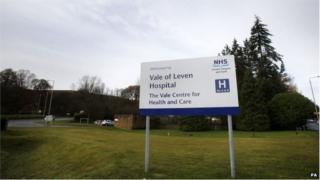 Blood contamination has been found on birthing equipment at the maternity unit in the Vale of Leven hospital.
An unannounced inspection at the West Dunbartonshire hospital also uncovered contaminated incubators.
The Healthcare Environment Inspectorate (HEI) urged NHS Greater Glasgow and Clyde to improve the cleanliness of the midwifery ward "as a matter of priority".
Blood was found on a birthing mat which was ready for the next patient.
Inspectors also found blood on a baby resuscitation mask box in a delivery room, contamination on incubator mattresses and dirt on birthing stirrups.
The report states that some of the contaminated equipment was included on nursing checklists which had been signed to confirm the equipment had been cleaned.
Deputy Director of Quality Assurance for Healthcare Improvement Jacqui Macrae said: "NHS Greater Glasgow and Clyde must ensure that all re-usable patient equipment is appropriately cleaned following use in the community midwifery unit.
"We expect NHS Greater Glasgow and Clyde to address these areas as a matter of priority."
The Vale of Leven was heavily criticised in 2014 following an inquiry into the country's worst Clostridium difficile (C. diff) outbreak.
But HEI found the standard of cleanliness at the hospital was good in the majority of wards during the inspection in April.