Murder of prisoner Michael Cameron could not be avoided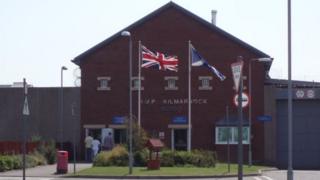 The murder of an inmate at a Scottish prison 10 years ago could not have been avoided, a sheriff has ruled.
Michael Cameron, 21, died after being attacked by a fellow prisoner in the health wing at HMP Kilmarnock in 2006.
CCTC cameras caught David Martin kicking, stamping and pouring boiling water on his victim. He is now serving an 18 year jail term for murder.
A fatal accident inquiry has found that the prisoner's death was "unexpected and unforeseeable".
When Martin was sentenced, the judge, Lord Matthews, said questions would be asked about why prison officers failed to intervene in the attack.
However Sheriff Susan Sinclair said there was "absolutely no criticism" of a prison custody officer and a nurse who witnessed the attack.
They followed safety rules by quickly raising the alarm and waiting for another prison officer to arrive before intervening.
"They did everything that could possibly safely be done," the sheriff said in her FAI determination.
Mr Cameron, who was on remand accused of rape, was in the cell ward with three other prisoners - including Martin - who were all young offenders.
Had the younger inmates been housed separately, "the murder would not have happened", Sheriff Sinclair said.
But she added that there has been a large fall in the number of young offenders who have been sent to HMP Kilmarnock since the attack.
Sheriff Sinclair concluded that there were "no reasonable precautions" which could have prevented the assault or Mr Cameron's death.
She said: "I am conscious that the relatives of Michael Cameron may feel puzzled as to why there are no recommendations which can be made to prevent such a dreadful incident happening in the future.
"There were certainly failings on the part of the prison custody officers in relation to accurate form filling and strict adherence to the prison rules about segregation of prisoners.
"Many of the changes which would have formed recommendations have been made already...all these changes should help to prevent a further incident of this type.
"However the violence offered against Michael Cameron was unexpected and in my view unforeseeable."
HMP Kilmarnock is operated by Serco, on behalf of the Scottish Prison Service.