Funeral held for river death woman Kirsty Aitchison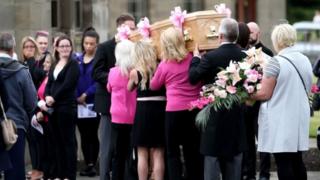 Dozens of people have attended the funeral of a deaf woman whose body was found in the River Clyde in Glasgow.
Kirsty Aitchison, 30, went missing in the early hours of 12 June after leaving a social event for deaf people at Campus bar in Sauchiehall Street.
Her body was found on 18 June. Police said her death was not suspicious.
The mother-of-four's funeral was held at Daldowie Crematorium, in Uddingston. Mourners were told that Ms Aitchison was "one in a million".
The service was packed with friends and family, many wearing pink ties, scarves or clothing at the request of her family.
With the east chapel full, dozens of people stood outside, where a sign language interpreter translated for many of Ms Aitchison's deaf friends.
When her mother Fay arrived at the service, she stopped to hug two police officers who had supported the family in recent weeks.
"My Girl" by The Temptations was played as the coffin was carried in to the chapel. Civil celebrant Jim Allan said: "That unmistakable song was chosen by Fay in memory of her one-in-a-million girl who was taken too soon."
Coldplay's "Fix You" was also played during the service, and poems titled "Being Deaf" and "We Never Got to Say Goodbye" were read.
Mr Allan told those gathered that Ms Aitchison was a "shopaholic" who loved to "glam up" with hair extensions, tanning lotion and nail paint.
He also said the 30-year-old "adored her children".
One poem dedicated to her four children read: "When my children remember their childhood, I want only for them to remember that their mother gave it her all...she tried her hardest to teach them about kindness, love, compassion and honesty."
A fundraising drive set up to support Ms Aitchison's family has now reached more than £15,000 and those at the funeral were thanked for their support and generosity.