Glasgow art student's design chosen to dress the stars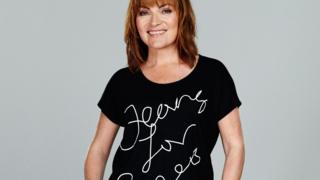 A Glasgow art student has found herself dressing the stars after her design was chosen as the official T-shirt of this year's Jeans for Genes Day campaign.
Kate Moss, Lorraine Kelly and Colleen Rooney have been pictured wearing the top, created by Katherine Garbutt.
The third year Glasgow School of Art student said she was "honoured" to win the competition to design the t-shirt for this year's fundraiser.
The top will be sold to raise funds for Genetic Disorders UK.
Jeans for Genes Day is being held on 23 Septemberin support of Genetic Disorders UK, which helps children with genetic disorders.
Katherine, 29, a textiles student, said: "I am very honoured to be picked as the winner of this competition.
"Jeans for Genes are a fantastic charity who have a huge impact on children's lives. This is a wonderful opportunity for me to use my design work to promote a good cause."
Genetic Disorders UK chief executive Caroline Harding added: "It's absolutely brilliant to have so many big names get behind the campaign and showcase this year's winning T-shirt design, which we think is fantastic.
"One in 25 children in the UK are born with a genetic disorder. Funds raised through our T-shirt sales will go to the vital care and support they urgently need."